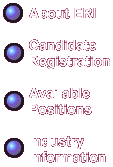 In today's competitive market, having the right person in the right position is critical to the success of your organization. Executive Recruiters International (ERI) understands that time is a precious commodity, and your organization cannot afford to waste it on costly and ineffective searches. With ERI you can:
Reach candidates not actively seeking a job
Get a wider sample of better qualified candidates
Interview only those who are qualified
Reduce your cost per hire
Fill your openings quickly
Guaranteed performance
ERI specializes primarily in the automotive industry, globally, in all disciplines. With a foundation grounded in the "Motor City". (ERI) has established a worldwide reputation for accomplishing delicate recruiting assignments. The firm's extensive expertise as a full-service, specially-focused search firm has brought it considerable success, growth, and recognition.
Increasingly becoming known as the "Automotive Specialist Worldwide," Executive Recruiters International is cultivating one of the most comprehensive networks of local, regional, national and international resources. Their professionals handle the placement of candidates within a wide range of industries, including technical, engineering, and manufacturing, as well as management information systems, human resources, and administration.
"ERI's staff of highly trained, skillful recruiting professionals understands your business's importance of having the right staff for the right positions," says Kathleen A. Sinclair. "Our reputation is built on our ability to offer our clients the most qualified candidates for their industry." Sinclair was recognized by Crain's Detroit Businesses among the area's Top 40 Business men and women who are under the age of 40.
Global resources, a world-class staff, and a dedication to total client satisfaction have made Executive Recruiters International the best choice for an executive search firm. Pick up the phone, and ERI will make the connection.
For more information, call ERI at (313) 961-6200, or fax a resume to (248) 593-2545.
Related Articles

Executive Recruiters International, Inc.
P.O. Box 2537, Birmingham, MI 48012-2537
Phone (313) 961-6200 Fax (248) 593-2545 E-Mail eriinc@execrecruiters.com